Optimizing Patient Blood Management: The Role of the Laboratory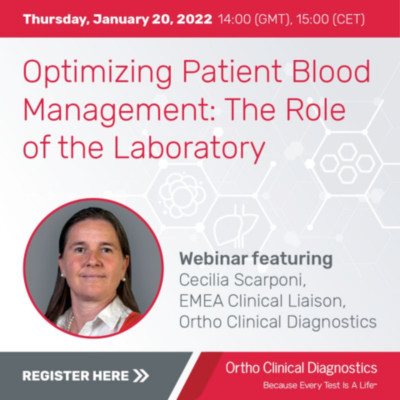 Exhibit
Symposia
Workshops
Sponsor
Patient Blood Management (PBM) as defined by the Society for the Advancement of Blood Management refers to "the timely application of evidence-based medical and surgical concepts designed to maintain hemoglobin concentration, optimize hemostasis and minimize blood loss in an effort to improve patient outcome".
Although the World Health Organization endorsed PBM in 2010, many hospitals still seek guidance with the implementation of PBM in clinical routine which goes beyond blood transfusion.
A review of the literature demonstrates that the role of the clinical laboratory in the multidisciplinary concept of PBM is underrepresented.
The speaker will explore the important role of the clinical laboratory and how it can impact each of the PBM pillars: from detecting anemia and iron deficiency to reducing blood loss.
This webinar will cover the following topics:
Introduction to Patient Blood Management (PBM)
The three-pillar Matrix of PBM
PBM programs and the role of the Laboratory
Webinars will be available for unlimited on-demand viewing after live event.

More events