ICI 4 All 2022 Meeting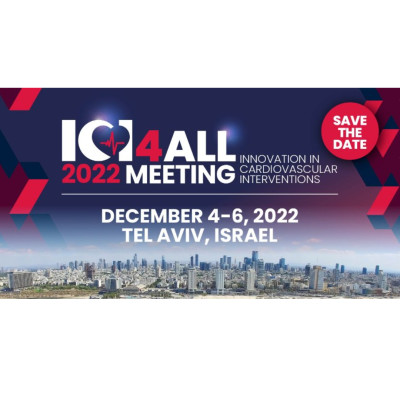 Exhibit
Symposia
Workshops
Organiser
Sponsor
ICI Meeting 2022 – the premier International Conference for Innovations in Cardiovascular Interventions (Heart, Brain and Peripheral Vessels) and High-Tech Life Science Industry.
The ICI scientific program will include new innovative sessions.
The ICI Meeting is an acclaimed forum which aims to explore fuel, spark and be involved in the innovations that will shape the future of our cardiovascular systems and BEYOND. Over the last 2 decades, Israel has become a medical "start-up nation". ICI's dynamic environment which allows rich exchanges on innovations has contributed to this process by facilitating global interaction between physicians, entrepreneurs, academia, and industry and by building bridges leading to innovation.
The ICI meeting is preceded by the ICI Academy of Innovation Day – a full-day pre-conference educational workshop satellite, which trains participants in the entire medical innovation process, and by the Digital Health Day , that will be organized by some of the famous and most successful VC's in the field – a full-day pre-conference educational day, that will bring together medical professionals, international and local experts and innovative companies in the field of digital medicine.
We then continue to a 2-day conference focusing on advanced technologies to save hearts and lives. We challenge the horizons in coronary interventions, vascular interventions, transcatheter valvular therapies, stroke prevention/intervention, electrophysiology, cell therapy and heart failure. The popular "Technology Parade" offers biomedical technology start-ups from around the world the opportunity to present their latest developments. The unique "Wall-to-Wall – East Meets West" sessions concentrate on China-Israeli cooperation in the field.
Join the ICI global network to explore the latest advancements in treatment of the heart, brain, and vascular disease.
440 Global opinion leaders
600 Keynote lectures
800 Focus topics
40 Countries
Technology Parade
World startup competition
Challenge the horizon
Since 1995 ICI has helped revolutionize cardiovascular interventions and high-tech life-sciences.
Shape the future
This year, ICI will mark 27 years of innovation with an inspiring new model to shape the future of cardiovascular medicine..
United visionary leaders
ICI 2022 will gather world's leading researchers to discuss futuristic technology and breakthroughs.
Join science and business
ICI has contributed to remarkable improvements in patient lives by introducing the most advanced technologies and therapies.
Group Registration
The Group Registration procedure will be valid for a group with a minimum of 10 delegates. For more information on group registration please contact:
Registration and Accommodation Manager
Email: [email protected]
Payment
Payment: Payment of registration fees can be made via one of the following options:
1: Credit card: Visa, MasterCard or American Express 2: Bank transfer
Please Make Drafts Payable in USD or Israeli Shekel to:
Account Name: I.C.I CONVENTION LTD
ID: 516249000Bank details: Bank Hapoalim (12) Branch 615
Account Number: 465904
IBAN No: IL190126150000000465904
Please make sure the name of the meeting and of the participant is stated on
the bank transfer
Bank charges are the responsibility of the participant when required
Registration will only be valid upon receipt of the full payment according to the
deadlines indicated.
Cancellation Policy
Cancellation Policy – Registration: Refund of registration fees will be made as follows:
Prior to October 15, 2022– full refund less $ 50 handling fees
From October 15, 2021 until November 20, 2022– 50% refund
After November 20, 2022 – no refund.
For further information, please contact the registration
department: [email protected]
More events