Not yet available in the U.S. or Canada
Lactate, Hemoglobin, Hematocrit, Glucose, and Ketone for early patient assessment and treatment
Fingerstick capillary sample, no blood draws
Results as fast as 6 seconds
Laboratory-quality accuracy
Durable carrying case holds meters, single-use biosensors, controls, and lancets
Meters store and transmit patient data

Stat EMS can measure lactate, hematocrit, hemoglobin, glucose, and ketone from a capillary blood drop. Results are available in seconds by using single-use biosensors and portable meters. Stat EMS offers simple, fast, and accurate testing in the field.

Two meter systems are available. One provides patient data storage plus wireless connectivity to external data managers, the other provides data storage only.
Test Menu
Stat EMS provides important tests to help patient assessment, and emergency treatment. These tests can also help determine the appropriate transport site for patients with trauma, sepsis, or other specialized needs.


Lactate
Elevated blood lactate is a rapid, sensitive indicator of tissue hypoxia, sepsis, septic shock, and hypovolemic shock.7-9

For ambulance patients, lactate testing provides:
Early, more sensitive detection of hypoperfusion during sepsis and septic shock than vital signs alone8
Identification of patients with sepsis who might benefit from early goal-directed therapy and advanced activation of medical staff at the transport site10,11
Evaluation of trauma, critical illness, hemorrhage, acute coronary syndrome, acute respiratory failure, and chest and abdominal pain11,13
Abnormal glucose levels are frequently encountered in ambulance patients. Medical conditions that warrant pre-hospital blood glucose testing include diabetes, altered mental state, seizure, acute coronary syndrome, organ injury, trauma, sepsis, septic shock, and burns.1-3


Ketone
Blood ketone testing provides rapid detection or rule- out of diabetic ketoacidosis (DKA), the leading cause of hospitalization and death for children with diabetes.4The American Diabetes Association and International Society for Pediatric and Adolescent Diabetes recommend blood ketone testing whenever glucose is above 14 mmol/L (250 mg/dL).5,6
Stat EMS provides accurate, measured results for both hemoglobin and hematocrit for pre-hospital assessment of blood oxygen carrying capacity for:
• Evaluation of internal or external hemorrhage
• Assessment of the need for blood products14,15
• Estimation of blood loss
Fingerstick Sampling
Using capillary samples as small as 0.6 μL, Stat EMS provides fast and easy testing for high-stress medical situations. Capillary sampling and testing with Stat EMS is as easy as glucose self-testing performed by patients with diabetes. It eliminates the time and costs of a venipuncture, including the tourniquet, needle, vacutainer, and transfer pipette—as well as finding a suitable vein.
Simple to Use
Stat EMS meters do not require coding or calibration before use and are fast and easy to use.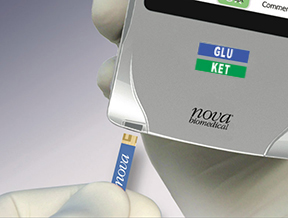 Insert biosensor into meter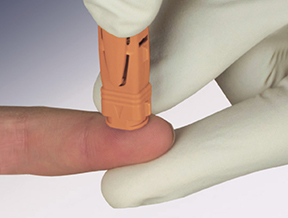 Lance finger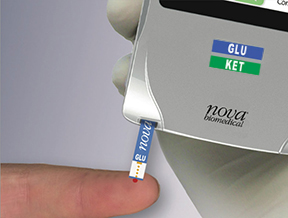 Touch biosensor to blood drop. Read Results
Results in Seconds
With fast, simple testing steps and ready to use biosensors, Stat EMS provides results in 6 to 40 seconds after the fingerstick depending on the assay.
A Choice of Two Models

Stat EMS Data Link, Connectivity and Data Storage
The connectivity meters store up to 1,000 patient results and offer Bluetooth connectivity. They offer comprehensive point-of-care features including operator and patient ID, preset or customized test result comments, quality control prompting and lockout for unauthorized use. The meters feature touchscreen operation and a bright color display.
Stat EMS Data Link, Carrying Case
The case is rugged, compact, and contains all testing components, including meters, biosensors, controls, and lancets. It also serves as the battery charging station for the meters. It is water resistant and designed to protect all components if dropped. It is available with an adjustable shoulder strap.

Stat EMS Basic, Data Storage
The Basic meters store up to 400 test results with a date and time stamp plus first in/first out sequential numbering for sample identification. The meters feature touch sensi- tive buttons for operation and bright color screens.
Stat EMS Basic, Carrying Case
The case is rugged, compact, and contains all testing components, including meters, biosensors, controls, and lancets. It is water resistant and designed to protect all components if dropped. An adjustable shoulder strap is available.

Meters: Glucose/Ketone | Lactate and Hb/Hct
Weight: 220 g (0.49 lb)
Size: 147 mm x 79 mm x 30 mm
5.8 in x 3.1 in x 1.18 in
Data Storage:
Patient Tests: 1,000
QC Tests: 200
Connectivity:
Meter Docking Station: RJ-45 Ethernet Port
Protocol: TCP/IP Ethernet 10/100 Mbit
Standard: POCT 1-A Compliant
Battery Information:
Type: 3.7V Li Polymer Battery
Features: Rechargeable
Life: Minimum 600 tests
Operating Ranges:
Temperature:1°C–4̊0°C (34°F–104°F)
Altitude: Up to 4,572 m (15,000 ft)
Humidity: 10%–90% relative humidity
Carrying Case:
Size: 41 cm x 36 cm x 15 cm
(16 in x 14 in x 6 in)
Weight: 2.7 kg (6 lb)

Meters: Glucose/Ketone | Lactate and Hb/Hct
Weight: 78.5 g (0.17 lb)
Size: 99 mm x 61 mm x 23 mm
3.9 in x 2.4 in x 0.9 in
Data Storage:
Patient Tests: 1,000
QC Tests: 200
Battery Information:
Type: 2 AAA Batteries
Life: Minimum 600 tests
Operating Ranges:
Temperature:1°C–4̊0°C (34°F–104°F)
Altitude: Up to 4,572 m (15,000 ft)
Humidity: 10%–90% relative humidity
Carrying Case:
Size: 25.9 cm x 20.1cm x 11.4 cm
(10.2 in x 7.9 in x 4.5 in)
Weight: 1.5 kg (3.3lb)
Biosensors
StatStrip Glucose Biosensor
Only glucose biosensor FDA cleared for use with critically ill patients



Test Measured: Blood Glucose
Test Time: 6 seconds
Test Strip Volume: 1.2 µL
Test Methodology: Electrochemistry
Sample Types:
Whole Blood: Arterial, Capillary, Venous
Measurement Range:
Glucose: 0.6–33.3 mmol/L (10–600 mg/dL)
Operating Ranges:
Temperature: 1˚C–40˚C (34˚F–104˚F)
Altitude: Up to 4,572 m (15,000 ft)
Humidity: 10%–90% relative humidity
Reagents and Strips:
Test Strips: 2 vials of 50
QC: 3 levels (sold separately)
Linearity: 5 levels available
Test Strip Use Life: 24 months from date of manufacture
StatStrip Ketone Biosensor
Best biomarker for detecting and guiding therapy for ketosis and DKA



Test Measured: Blood Ketone
Test Time: 10 seconds
Test Strip Volume: 0.8 µL
Test Methodology: Electrochemistry
Sample Types:
Whole Blood: Capillary, Venous
Measurement Range:
Ketone: 0.1–7.0 mmol/L
Operating Ranges:
Temperature: 1˚C–40˚C (34˚F–104˚F)
Altitude: Up to 4,572 m (15,000 ft)
Humidity: 10%–90% relative humidity
Reagents and Strips:
Test Strips: 2 vials of 25
QC: 3 levels (sold separately)
Linearity: 5 levels available
Test Strip Use Life: 24 months from date of manufacture
StatStrip Lactate Biosensor
Best biomarker for detecting and guiding therapy for severe sepsis, septic shock, and trauma



Test Measured: Blood Lactate
Test Time: 13 seconds
Test Strip Volume: 0.6 µL
Test Methodology: Electrochemistry
Sample Types:
Whole Blood: Arterial, Capillary, Venous
Measurement Range:
Lactate: 0.3–20 mmol/L
Operating Ranges:
Temperature: 1˚C–40˚C (34˚F–104˚F)
Altitude: Up to 4,572 m (15,000 ft)
Humidity: 10%–90% relative humidity
Reagents and Strips:
Test Strips: 2 vials of 25
QC: 2 levels (sold separately)
Linearity: 5 levels available
Test Strip Use Life: 24 months from date of manufacture
StatStrip Hb/Hct Biosensor
Rapid diagnosis of blood loss



Test Measured: Hemoglobin and Hematocrit
Test Time: 40 seconds
Test Strip Volume: 1.6 µL
Test Methodology: Electrochemistry
Sample Types: Capillary, Venous
Measurement Range:
Hemoglobin: 6.5–22 g/dL
Hematocrit: 20%–65%
Operating Ranges:
Temperature: 1˚C–40˚C (34˚F–104˚F)
Altitude: Up to 4,572 m (15,000 ft)
Humidity: 10%–90% relative humidity
Reagents and Strips:
Test Strips: 2 vials of 25
QC: 2 levels (sold separately)
Linearity: 3 levels available
Test Strip Use Life: 24 months from date of manufacture
---