DoD/VA & GOV Health IT Summit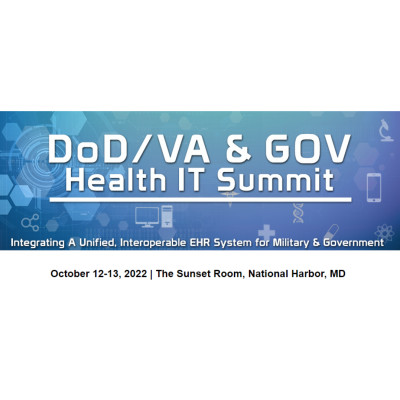 Exhibit
Symposia
Workshops
Organiser
Sponsor
Gain Education & Insight: Walk away with knowledge gained from our senior level speakers on some of the complex challenges facing health information technology professionals.
Build Partnerships:The agenda is designed to allow for ample networking opportunities and the ability to discover the most up-to-date HIT initiatives and technologies.
Influence: Help foster ideas! Share your own insight and knowledge during our interactive sessions. All attendees are encouraged to address our speaker faculty and each other with their questions, comments, or ideas.
Topics to be Covered at the October 2022 Summit:
- Modernizing the VA's EHR System Using Innovative Commercial Solutions That Will Improve the Delivery of Quality Health Care to Veterans
- Advancing the Military Health System by Improving System Operations, Driving Innovative Solutions, & Cultivating a Culture of Safety
- Streamlining Contracting, Innovation to Reduce Overall Redundancies & Improve VA Acquisition Efforts
- Driving VA Initiatives to Continue to Focus on Addressing Care Gaps While Modernizing VA Facilities & Services Overall
- Leading FEHRM's Efforts to Achieve Process Interoperability for the EHR Deployment
- Improving Health Care Through Technology by Engaging Veterans & Care Teams Outside of Traditional Health Care Visits
- Building & Sustaining Medical Readiness as a Critical Component of an Integrated American Naval Power
- Harnessing Data & Analytics Innovation to Improve Veteran Care
More events