International Emergency Department Leadership Institute (IEDLI) Conference 2022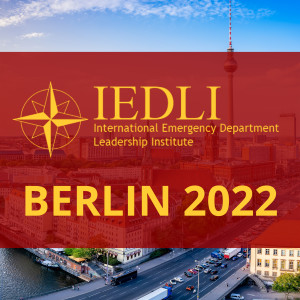 Exhibit
Symposia
Workshops
Organiser
Sponsor
The International Emergency Department Leadership Institute (IEDLI) program provides emergency department leaders with the skills and knowledge they need to operate successful emergency departments in any part of the world.
This program was created by Harvard Medical School faculty and other international experts. Through interactive lectures and workshops, IEDLI courses will change the way you think about the problems facing your ED. IEDLI courses are designed for physicians, nurses and administrators.
The 2022 IEDLI Program will be held from October 10-16, 2022 in Berlin, Germany. This year's courses include:
For more information, visit IEDLI.org.
Accreditation: An application will be made to the EACCME®
October 10-14 - Leadership Essentials Course
October 10-12 - Certified Emergency Department Executive (CEDE) Certification Course
October 13-14 - Continuing Executive Education Course
October 15-16 - ED Design
For more information please visit iedli.org
More events