ASA ADVANCE 2023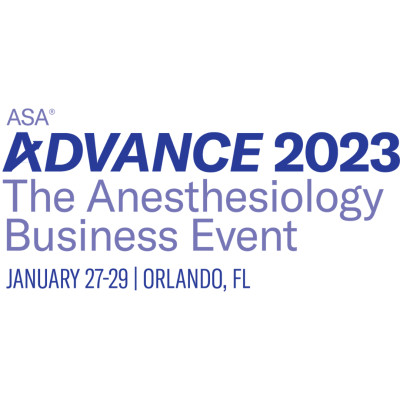 Exhibit
Symposia
Workshops
Organiser
Sponsor
ASA® ADVANCE: The Anesthesiology Business Event
The business of anesthesiology is ever advancing, with new models, new challenges, and new opportunities — ASA is at the forefront helping anesthesiologists and their practices advance with it. ASA has transformed the PRACTICE MANAGEMENT™ conference to ASA ADVANCE: The Anesthesiology Business Event.
Fully reimagined to give you more of what you need, from blue-sky strategies to concrete solutions you can put to work today, ASA ADVANCE: The Anesthesiology Business Event enables your success. It's all on the program—quality, technology, wellness, HR, economics—to help you anticipate, adapt, and achieve.
Join us for a stimulating weekend each year devoted to establishing a successful, sustainable business, filled with anesthesiology-specific content for any practice size and setting. ASA ADVANCE: The Anesthesiology Business Event will help you navigate it all.
Collaborate and connect with practice leaders, industry partners, and strategic visionaries to build a stronger, more sustainable anesthesiology business. ASA® ADVANCE: The Anesthesiology Business Event is designed to help you improve efficiency, navigate this ever-changing business environment, and enact future-focused strategies with confidence.
See how you can benefit from attending this transformative event.
Physician Practice Leaders
Discover approaches to grow your business and advance your practice, while also focusing on issues affecting you, including pre-retirement planning, work-life balance, and becoming a more effective perioperative physician.
Practice Administrators and Executives
From transformative strategy to daily operations, you'll find workable solutions and practical ideas to optimize performance across your practice.
Residents and Fellows
Dive into the dedicated track so you can make the most of residency, negotiate a great contract, become an asset to your practice, and manage your money.
Small- and Mid-sized Practice Teams
In addition to the all-encompassing main program, enjoy specialized sessions on leadership, business relationships, governance, and more—just for you.
Large Practice Teams

From dealing with the aftershocks of COVID-19, including physician burnout and staffing shortages, to embracing AI and successfully managing a multigenerational practice, gain solutions to the issues facing your business today—and tomorrow.

More events