Medica 2022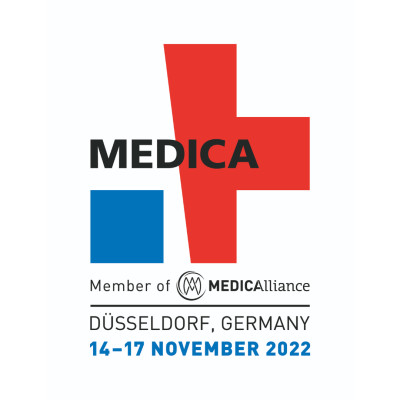 Symposia
Workshops
Organiser
Sponsor
Dive into the future – live in Düsseldorf and digital.
The medical technology segments of MEDICA
Segment "Imaging and diagnostics / medical equipment and devices"
This segment deals with the use of equipment for diagnostics, surgery and endoscopy, therapy and physical medicine, intensive care medicine / anaesthesia / respiration, rescue / emergency medicine, hygiene / sterilisation / disinfection as well as of imaging, implants / prostheses, surgical techniques and equipment for hospitals, surgeries and care areas.
Segment "IT systems and IT solutions"
This segment deals with the use of solutions in the fileld of mHealth / mobile IT, KI, VR, AR, Medical Apps, wireless technologies (wireless, Bluetooth, W-LAN), wearables, intelligent textiles (smart textiles), eHealth, telemedicine / telematics / telemetry, management information systems / management software, medical information systems / software, IT infrastructure / computer hardware and communication systems.

Segment "Laboratory equipment / diagnostic tests"
Here you can find everything that is new in laboratory sector, in which analysis equipment, centrifuges, filtration and water treatment systems, chromatographs, cleaning equipment, drying equipment, homogenizers, cooling systems, microscopes, pH meters, photometers, automatic pipetting and diluting stations, sample distribution systems, analytical balances, microtitre plates, shakers / mixers, automatic dyeing machines, infrared spectrometers, thermostats / temperature measuring instruments, laboratory supplies and furniture are used. You want to know about new trends in the field of diagnostics? the diagnostics sector includes clinical chemistry, immunochemistry / immunology, hematology / histology / cytology, microbiology tests, infection immunology, genetic tests and molecular biology diagnostics.
Segment "Physiotherapy / orthopaedic technology"
In this segment you will find everything about movement and coordination: Physiotherapeutic equipment for balneotherapy, hydrotherapy, ergotherapy, compression therapy, orthopaedic shock wave therapy, physical therapy for physiotherapy, cold treatment and heat treatment. Consumer goods, such as bandages, aids and mobility aids, walking aids, wheelchairs, orthopaedic feet aids, shoes and insoles as well as massage equipment, rehabilitation equipment and devices, training equipment and lateral training devices.
Segment "Disposables and consumables"
This segment includes systems and products such as general medical consumables and disposables, wound care articles, care and hygiene articles, cosmetic articles for patients, hand hygiene articles, surface disinfectants, waste disposal, sterile bags, incontinence systems / stoma aids, catheters / urine drainage catheters, acupuncture devices, rechargeable batteries, hearing aids, clothing, patient wristbands and personal protective equipment.

More events