HCP 2020 Spring Hospital & Healthcare I.T. Conference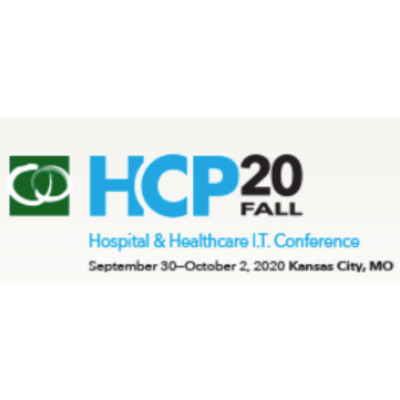 POSTPONED DUE TO COVID-19 HEALTH CONCERNS
NEW DATES: SEPTEMBER 30 - OCTOBER 02, 2020
Find HCP on Social Media 
Exhibit
Symposia
Workshops
Organiser
Sponsor
Our 2020 Spring Hospital & Healthcare I.T. Conference will give you the opportunity to:
Network with your peers: Hospital & Healthcare I.T. Executives from America's most prestigious hospitals and health systems.
Expand your industry intelligence with cutting-edge educational sessions.
Discover innovative solutions for your department by participating in our Reverse EXPOsessions along with the nation's leading suppliers.
To top it all off, all of the conference activities – even networking and entertainment – are included with your registration and offered at no cost to you or your facility.
Conference Highlights:
5 - 6 hours of CE credit
2 unique Reverse EXPO sessions
Ample networking opportunities
Opening night Hospitality Suites hosted by our Sponsors
Dinner & Entertainment evening
Monday, May 18
11:30 am - 4:00 pm: Provider Registration
11:30 am - 7:00 pm: Supplier Registration
12 noon - 4:00 pm: Supplier Showcase++
2:30 pm - 2:50 pm: Supplier Orientation
4:15 pm - 5:30 pm: Provider Orientation & Sponsor Spotlight
5:30 pm - 6:30 pm: Welcome Reception
6:30 pm - 9:30 pm: Hospitality Suites, hosted by our Sponsors
Tuesday, May 19
7:00 am - 6:00 pm: Registration Desk Open
7:00 am - 8:00 am: Breakfast
8:00 am - 9:30 am: Opening Remarks & Keynote Address
9:30 am - 9:45 am: Coffee Break
9:45 am - 10:45 pm: Educational Session
11:00 am - 12:00 pm: Educational Session
11:45 am - 1:00 pm: Lunch
1:30 pm - 3:30 pm: Reverse Expo Session 1
4:00 pm - 5:00 pm: Educational Session
6:00 pm - 8:30 pm: Dinner & Entertainment
Wednesday, May 20
7:00 am - 12 noon: Registration Desk Open
6:45 am - 7:45 am: Breakfast
8:00 am - 10:00 am: Reverse Expo Session 2
10:30 am - 11:30 am: Educational Session
Registration available online here
More events