Digital Pathology & AI Congress: Europe 2022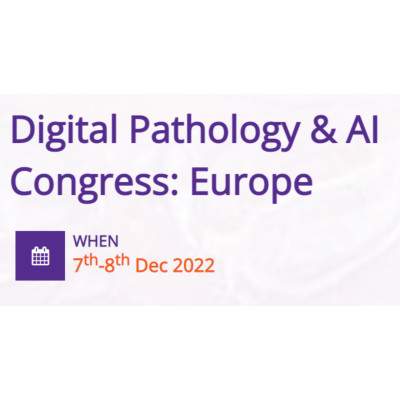 Exhibit
Symposia
Workshops
Organiser
Sponsor
9th Digital Pathology & AI Congress: Europe
UTILIZING AI & DIGITAL PATHOLOGY TO ADVANCE PATHOLOGY PRACTICE, ENABLE ENHANCED PATIENT CARE AND FURTHER DRUG DISCOVERY
WE LOOK FORWARD TO SEEING YOU IN LONDON AT THIS IN-PERSON CONGRESS!
Hear 70+ presentations exploring the latest advances and applications of digital pathology. Learn how artificial intelligence and machine learning is being applied to primary diagnosis and clinical research. Discover how the image-based information environment is transforming the laboratory. Join an extended track featuring pharma and industry case studies.
One of four extended panel discussions examines how innovation and AI continue to drive advances in pathology. The popular roundtable discussions provide an intimate setting for you and KOLs to discuss a variety of themes such as successful digital implementation strategies, toxicological pathology, and digital imaging in pharma.
This meeting has a reputation for providing an outstanding networking experience. plus, 45 leading hardware and software providers will be on hand to show you the latest technology.
"For someone who attends a lot of digital pathology-associated meetings, I found that the scientific content of this meeting to be extremely high and I certainly appreciate the strong level of industry support for this meeting and the level of discussion and dialogue that's taking place."
Keith J. Kaplan, tissuepathology.com
More events