8th International Conference on Surgery and Anaesthesia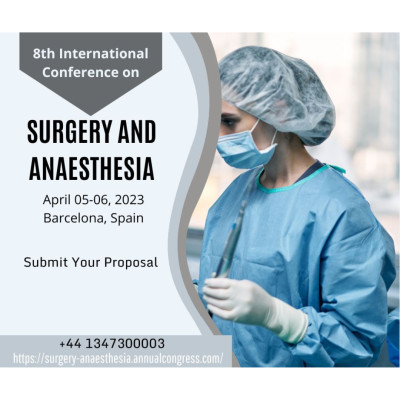 Exhibit
Symposia
Workshops
Organiser
Sponsor
Conference Series Llc Ltd invites all the participants across the world to attend 8th International Conference on Surgery and Anaesthesia during April 05-06, 2023 in Barcelona, Spain. which includes prompt keynote presentations, Oral talks, e-Poster presentations, Young Research Forum(YRF) and Exhibitions.
Why to attend?
The Surgery-Anaesthesia 2023 interacts with members across the globe focused on learning about surgical and its specialties. This is the single best opportunity to reach the largest participants. Sharing the knowledge and demonstrations, information and B2B meetings with industrialists and potential clients to make a splash with innovative products live and brand recognition at this event. World-renowned speakers, the most recent techniques, and the latest advancements in Surgery and Anesthesia are hallmarks of this conference.
Target Audience:
Surgeons
Cosmetologist
Doctors
Medical Professionals
Anaesthesiologists
Medical Students
Fellowship Holders
Physician Assistants
Surgical Technicians
Research Scientists
Nurses
Pharmaceutical Industries
Dentists
Cardiologists
Medical Professionals
Highlights of Surgery-Anaesthesia 2023:
Meet the surgical experts, Opthalamologists, Endocrinologists, Oncologists and Otolaryngologists from 25+ countries around the globe
Meet your peers and evaluate your research in front of experts
World-class platform to Exhibit your products and services
More than 25 presentations from Industry and Academic leaders
One- to-one interaction and Back to Back Interactions etc.
Well organized Scientific Program with 5+ hours of Networking sessions
Interactive panel discussions and Q & A sessions
Best Poster Awards, Young Research Forums
Young Researchers Opportunity:
Establishing their academic and professional relationships.
Improving their morale and confidence of presenting research in an international platform.
Interacting with expertise in their respective departments.
Clearing your inhibitions of adjusting to the foreign environment.
Providing a holistic experience of academic tourism.
More events