7th International Conference on Nursing and Health Sciences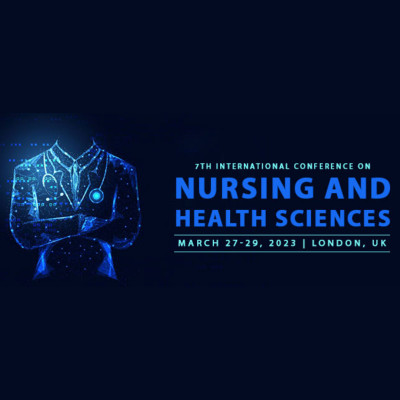 Exhibit
Symposia
Workshops
Organiser
Sponsor
About Conference
The Organizing Committee of the 7th International Conference on Nursing and Health science invites you to attend the Nursing 2023 Conference, which will be held in Paris, France on March 27-29, 2023. The Nursing Conference aims to promote and conduct interdisciplinary collaborative research on state-of-the-art methods and techniques in nursing education and care. It provides a unique opportunity to expand and strengthen the nursing and healthcare community and our collective knowledge.
Program goals:
Emphasizes a strongly practice-oriented research programme. Examine how practice influences clinical nursing research. Describe examples of nursing research findings that have been meaningfully and successfully conducted in practice. Providing opportunities to deepen knowledge in the field of nursing
To promote and improve cooperation and partnerships with educational, research and clinical institutions.
Who Should Attend:
Nursing Congress is open to clinicians, nurses, and researchers interested in exploring relevance to research practice. It brings together all renowned medical professionals who are truly fascinated by different nursing fields such as neonatal, clinical, basic considerations, dialysis, health strategies, informatics, anesthesiologists, obstetrics, torture, etc. We welcome aspiring researchers, nursing professionals, nursing professionals, and nursing workers. Medicines from the Board, Psychiatry, Injuries, Pediatric Nursing, Geriatrics, Applied Nursing, General Wellness, Oncology, Medicine, Innovative Work, Practice, Organization, Strategies, and Training. Traversing the themes that resonate with you, answering your thoughts and creating short arrangements is an extraordinary social event.
Presentation forum
Keynote forum
Mini plenary session
Distinguished Speaker Forum
Student forum
Poster session
Young Researcher Forum
Educational workshop
Study Group
Company workshop
Mini symposium
Today's session highlights
Meet the professor
Educational session
Training Program
Why you should the Nursing 2023 Conference?
Presentation
Connection with eminent people
Outstanding
Publication
Cooperation and Friendship
Reinvent Skills with Professional Development Workshops
Learn more about our latest developments
Make the most of your time by visiting exhibitions
Get exclusive value for your registration fee
Explore New Cities, Culture and meet new people
Sessions & Tracks
Track 1: NURSING EDUCATION
Nursing education is one of the vocational training courses designed to prepare different categories of nurses to be qualified to provide medical care to patients of all ages suffering from various diseases and disabilities.

Track 2: NURSING INFORMATICS
Nursing informatics integrates nursing concepts, data analysis, informatics for nursing, and medical data development, thereby supporting nursing practice and ultimately improving patient care outcomes according to recently developed techniques. Areas of the nursing profession to improve.

Track 3: IMPORTANCE AND SCOPE OF NURSING EDUCATION
It includes the roles, responsibilities, functions and activities of all registered nurses trained and approved to maintain patient health care.
Social Importance
Economic Implications
Future range

Track 4: CURRENT TRENDS IN NURSING PRACTICE
Nursing is consistently changing from time to time. In order to accept some new challenges and further proceeding in your career, we have to make novel developments like Improving outpatient care, Importance of Ethnic accomplishment, improving patient health, improving customer experience and improving caregiver data analysis skills

Track 5: INTENSIVE AND CRITICAL CARE
Critical care and critical care specialist nurses are encouraged to provide excellent care to critically ill patients. Intensive Care Nursing focuses on providing the best possible care to critically ill or unstable patients after serious injury, surgery, or life-threatening illness. These health care professionals often see critically ill patients who require endotracheal intubation, intravenous titratable vasoactive drugs, or mechanical ventilation.
Track 6: ETHICAL COMMITTEE IN MEETING
Ethics committees are regulatory bodies responsible for ensuring that all clinical processes are conducted in an ethical manner in accordance with national and international law. There are some ethical principles everyone should follow to ensure patient safety in healthcare
EC member
Roles and tasks
EC directives and principles
ICH-GCPs

Track 7: PEDIATRIC NURSING
Pediatric nursing, also called pediatric nursing, usually in day clinics or inpatient hospitals, is responsible for maintaining the safety of new-borns and children up to adolescence. They are further divided into direct care, neonatal care, and pediatric emergency care. Certain principles must be followed in order to achieve the goal of promoting children's health.
Vaccination and Autism
Antibiotic resistance in preschool children
Eating Disorders and the Impact of social media
Ethics of pediatric medicine
Youth health care practice
Treatment of speech disorders

Track 8: ADULT NURSING
Adult Care, also known as General Nursing as described by the Nursing and Midwifery Council, is responsible for keeping adults safe from the age of 18 to older adults suffering from a variety of medical conditions. They have the knowledge to meet the physical, psychological, holistic and social needs, requirements and beliefs of people in ethnically diverse communities.
Adult Mental Health and Psychiatric Care
Nonchemotherapy in bipolar disorder
Exercise/Sports Medicine
Obesity and Weight Management Program
Dental and Oral Health in the United States
Track 9: MIDWIFERY NURSING
Midwifery is a branch of medicine and the profession concerned with pregnancy, childbirth, and the postpartum period. Pregnancy includes all trimesters, and childbirth includes labour, delivery, and the position of delivery. They are also responsible to take care of the new born.
Practices for Mothers and New-borns in Rural Areas
First prenatal appointment analysis
Mental illness and postpartum
Self-Instruction & Natal Safety Kits
Challenges of weight gain during pregnancy
Safety rules for obese pregnant women

Track 10: GERIATRIC NURSING
Geriatrics is the study of older people and the social, cultural, behavioural, psychological, cognitive, physiological, and psychological aspects of older people. You are responsible for maintaining the health care of elderly patients in a hospital, home, or rehabilitation/psychiatric facility. Geriatric nurses are responsible for the early detection of disease and prevention of further disease progression in accordance with geriatric ethics.
Track 11: WOMEN'S HEALTH NURSING
This is a specialization of nursing practice, including the specialization of diseases of the feminine consumption structure, including female genital growth, female genital malignancies, reasons for malignant progression, and treatment of cervical and breast cancer. Category. They are responsible for providing all aspects of women's health services. It also provides women with ethical principles on infertility, contraceptive advice, and work and childbirth advice.
Breast cancer treatment and prognosis
Infertility Code of Ethics
Menopausal challenges
Analysis of ovarian dysfunction
Contraceptive measures
Reproductive Endocrinology

Track 12: MATERNAL AND NEONATAL NURSING
Obstetric nurses and neonatal nurses take care of maternity wards and eager mothers of babies. Neonatal and maternal healthcare workers are recruited as volunteers to perform additional tasks. Mothers and newborn caregivers work with mothers and infants during labor and transportation. Maternal and neonatal caregivers strive to facilitate transportation and reduce the risk of death and other complications. It can also focus on babies in the first brief stages of life, especially vulnerable ones. There are various tasks such as baby confirmation, regular registration, and evaluation.
Prenatal care
NICU (Neonatal Intensive Care Unit)
Phototherapy
PICU (Pediatric Intensive Care Unit)

Track 13: PYSCHIATRIC NURSING
Psychiatric nursing, known as psychiatric nursing, is a nursing practice that deals with the mental health of patients of all ages suffering from mental disorders such as depression, anxiety, schizophrenia, PTSD, bipolar disorder, and substance addiction. is a distinct category of PMH-APRN is responsible for maintaining the health care of patients with mental disorders in collaboration with individual patients, families and herds. They follow several nursing-therapeutic interventions to diagnose and treat the disorder.

Track 14: REHABILITATION NURSING
Patients with long-term disability or chronic illness can benefit from the support of a rehabilitation nurse to overcome limitations and reach their full potential. These nurses work with patients and their families to develop recovery plans and set short- and long-term goals to help patients achieve as independent a lifestyle as possible.
Coping with Functional and Lifestyle Changes in People Dealing with Injuries, Disabilities and Chronic Illnesses
Educate patients and support health-related coordination
Associate Adaptive Skills
Promoting Potential Independence
Provide comprehensive, complete and compassionate end-of-life care for patients with life-limiting medical conditions.

Track 15: PRIMARY HEALTHCARE NURSING
A key principle of primary health care is to ensure equal access to primary health services for people of all ages. They are also responsible for promoting patient health, disease prevention, rehabilitation and palliative purposes, and improving the areas of education and research.
Health Promotion
Disease prevention
Rehabilitation and relief
Chronic disease management
Quality management
Nutrition and health
Household medicine

Track 16: NURSING ON GYNECOLOGY AND OBSTETRICS
Obstetrics, also known as perinatal care, deals with patients who are planning a pregnancy, are in the process of becoming pregnant, or are in the process of giving birth. You are responsible for caring for normal pregnancies, abnormal pregnancies, normal labour and labour induction, abnormal labour and other pregnancy-related complications.
Historical development of obstetrics
Degree of mental health problems in Ethiopia
Normal Pregnancy
Normal Postpartum
Abnormal Pregnancy
Puerperal Abnormalities
Labour Induction
Bongenital Anomaly
Obstetric Surgery

Track 17: HEALTHCARE MANAGEMENT
Health care, also known as a nursing home, consists of primary health care and doctors, nurses, and other caregivers who maintain intermediaries such as compensation, state and private policies, and managed care companies.

Track 18: PALLATIVE CARE
Palliative care is an important part of treating patients suffering from life-threatening illnesses and improving their quality of life through early detection of disease symptoms and prevention of physical and psychological disease states. medical approach. It contains several key elements of the palliative care process and the program should be implemented according to the guidelines.
Track 19: EVIDENCE BASED NURSING EDUCATION AND PRACTICE
Evidence-based medicine is best practice and was introduced in England in the early 1990s. EBP is the wise use of new knowledge to inform a patient's individual health care decisions. EBP has multiple goals to follow to achieve patient health care. Some resources are included in different tiers of evidence. The John Hopkins Nursing EBP Model and the IOWA Model are models for promoting quality nursing.

Track 20: CLINICAL NURSING
Clinical nursing is a demanding medical practice that can provide expert advice on the clinical picture and therapeutic approaches. Clinical nurses handle technical skills and improve patient health care by working in a variety of areas, collaborating with different categories of nurses. There are her three spheres of influence, such as Subject, Nurse Practitioner, and Domain (Health Care System), and these spheres further identify seven core competencies.

Track 21: ADVANCES IN NURSING
These days, innovative thinking and intelligence are paving the way for all companies to develop highly technical systems and software related to the healthcare industry. These advanced technologies in the medical field include telemedicine and telemedicine, medical informatics, photo voice, smart beds, simulation labs, electronic medical records, and thermal docks.
Telemedicine and telecare
Nursing informatics
Photo voice
Patient identification technology
Smart bed

Track 22: PUBLIC HEALTH
Public fitness is the technological know-how of defensive and enhancing the fitness of human beings and their communities. This work is accomplished through promoting healthy lifestyles, researching disease and injury prevention, and detecting, preventing, and responding to infectious diseases. Public health professionals attempt to prevent problems from occurring or recurring by implementing educational programs, recommending policies, managing services, and conducting research. Clinical professionals, such as doctors and nurses, focus primarily on treatment after illness or injury. Public health is also working to reduce health inequalities. Public health in large part promotes equity, quality and accessibility of health care.
Track 23: CHILD HEALTH CARE
Pediatric care is defined as medical services provided by health professionals to sick or infected children. These services are funded by various health agencies. Child health care addresses all common and important clinical problems of children, including immunizations, medical history and examination, growth and nutrition, acute and chronic infections, parasites, skin conditions, domestic and social difficulties to do. Child Healthcare is designed for use in primary care.

Track 24: OTHER SESSIONS
Nephrology and Urology Nursing
Orthopaedic and Trauma Nursing
Vascular and Surgical Nursing
Radiology & Imaging Nursing
Gastrointestinal and Endoscopy Nursing
Forensic Nursing
Transcultural Nursing
Nursing - Endocrinology, Diabetes & Metabolism
Pulmonary and Respiratory Nursing
Otorhinolaryngology and Opthalmic Nursing
Dental Nursing
Dermatology and Cosmetic Nurses
More events