2nd International Healthcare Management Conference 2022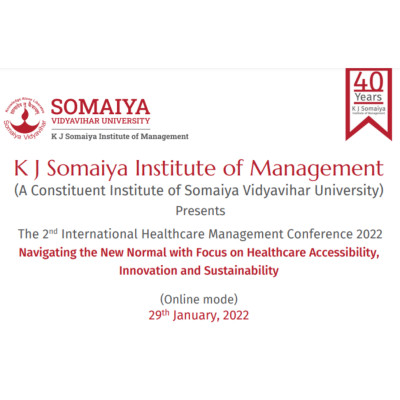 Exhibit
Symposia
Workshops
Organiser
Sponsor
About the Conference
MBA HCM is happy to announce its 2nd International Conference after successful completion of the 1st conference. The conference this year will focus on challenges and opportunities in building sustainability and providing accessibility to all in the new normal environment impacted after COVID 19. The world has realized the importance access to healthcare services and the role of technology and innovations in enabling masses to get the access in the aftermath of COVID 19. Covid-19 also exposed the gaps in public healthcare infrastructure in providing quality access of healthcare specifically to the weaker and vulnerable section of the society across the world including the developed countries.

The changes brought out by new technologies and innovations such as digital healthcare, use of AI and data analytics, alternative medicines, and focus on preventive medicine has brought out significant changes in consumer behavior in terms of adoption of technology and increased awareness, enhanced patient engagement, rising reach of healthcare organization and emergence of new tech health start-ups. This new normal in the healthcare is going to stay and all the stakeholders such as consumers, healthcare and tech organizations, government/s, as well as healthcare social organizations need to rise up to the occasion.

The present conference aims to provide a platform to discuss the issues emerging from this new normal and bring together healthcare practitioners, researchers, and academicians to exchange new ideas and share knowledge. The conference is multi-disciplinary in nature. We hope it will provide a platform to network and collaborate for future research in healthcare.

Who should attend the Conference?
Medical practitioners, Healthcare managers, academicians and researchers, students of healthcare management, and other healthcare sciences as well as people working in public health and social healthcare sectors.

Objectives of Conference
The objective of the conference is to provide a platform for practitioners, academicians and researchers in healthcare management to discuss: • Prominent changes in the healthcare sector particularly with consumer behaviour, the impact of new technologies, new consumer segments, and business models • Challenges and Issues posed during Covid -19 vaccination drive. • Possible opportunities to build sustainability and providing accessibility to all in the new normal after Covid-19.

More events