26th International Conference on Food Technology & Processing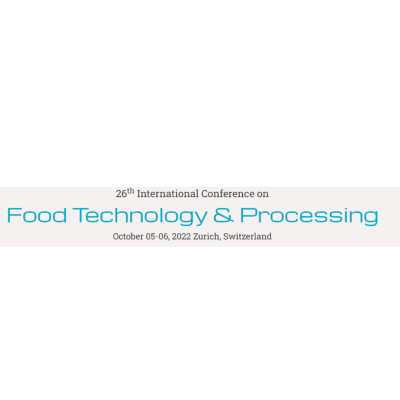 Exhibit
Symposia
Workshops
Organiser
Sponsor
Food Technology 2022 scientific committee feels esteemed delight to invite participants from around the world to join us at 26th International Conference on Food Technology and Processing schedule to be held on October 05-06, 2022 in Zurich, Switzerland. The Conference will primarily emphasize on the various topics related to Food Technology, Food Industry, Food Engineering etc. It is a world-wide dais that combines different spheres, stimulate the exchange of ideas and enable participants to grasp the latest developments and ideas in different areas of Food Technology and Processing. It will serve as a great platform to improve your knowledge and skills in this field through the various research experience and presentations. It also helps gaining a view about the career development and job search.
The Conference contains Keynote Forum, Oral and Poster presentations, Young Research Forum and Exhibitions. The ultimate aim is to gather prominent academic scientists, researchers, specialists, industrialists and research scholars to discussed and share their know-hows and research works on all aspects of Food Technology, Food Processing and Food Industry. Conference Series LLC Ltd organizes 3000+Global Events comprises of 600+ Conferences, 1200+ Workshops and 1200+ Symposiums every year in USA, Europe & Asia with support from 1000 more scientific societies.
Target Audience:
Food technologist
Microbiologist
Food safety officers
Nutritionists
Dietician
Quality control officers
Quality assurance officers
Scientists
Researchers
Biotechnologists
Industrialists
Food Engineers
Why to attend?
With members from around the world focused on learning about Food Technology and its advancement so this is your best opportunity to reach the largest assembly of participants of the Food Technology and Processing community. This conference seek to bring all such scientists, Noble Laureates, researchers, research scholars, students and people together who are involved in Food Technology and Processing ground and provide them to discuss about their unique innovation, sharing ideas and interaction with each other. World-renowned speakers, the most recent development and advancement in the field of food technology are the limelight of the conference.
Registration is Available
More events