24th International Conference on Health Services Management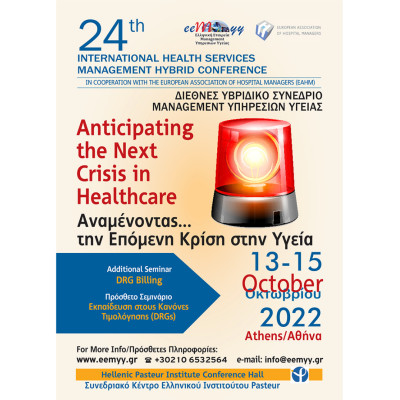 Exhibit
Symposia
Workshops
Organiser
Sponsor
Accepting a relevant proposal from European Association of Hospital Managers (EAHM) the Board of Directors of EEMYY decided to give international status to the 24th Panhellenic Hybrid Services Management Conference Health, to be held in Athens, on October 13-15, 2022, at the Amphitheater of the Hellenic Pasteur Institute.
In anticipation of the Next Health Crisis Almost 3 years after the official appearance of the pandemic CoViD-19, the largest health crisis of the last hundred years, systems international health care must be able to predict possible health crises, to detect it in time threat and, having built the means of reaction, respond quickly. The conference discussion for the "lessons" we learned from the pandemic, both nationally and globally, it is exhausted. It's time to apply what we have learned, filling our gaps in organization and preparedness in the face of health crises.
This year's international conference of EEMYY, in collaboration with the European Association of Hospital Managers (EAHM), focuses on waiting for the next crisis, as long as we know how health systems will face new threats in the future, and in belief that we will use all this our pandemic experience to create best systems for their health needs people. We aim to develop the necessary scientific dialogue for the preparedness phase which is - or should be - before the next crisis - the health policy of the Member States and of the institutions of the European Union
Programme Coming Soon..
Registration Coming Soon..
More events