2022 ACS Quality and Safety Conference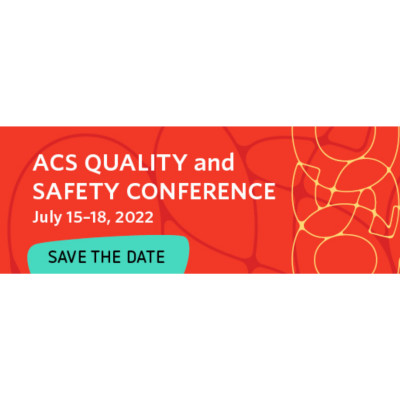 Exhibit
Symposia
Workshops
Organiser
Sponsor
Mark your calendars! The 2022 ACS Quality and Safety Conference will be held Friday, July 15–Monday, July 18 at the Hilton Chicago.
We can't wait to welcome attendees back to live and in-person learning! With inspirational plenaries and informative breakout sessions, participants will have ample opportunities to meet experts face-to-face and enjoy spontaneous networking.
Call for Abstracts
The Call for Abstracts for the 2022 ACS Quality and Safety Conference, July 15–18, is now open! Submit your abstracts by March 13.
The ACS Quality and Safety Conference strives to:
PROVIDE a professional forum to discuss and apply the most recent knowledge pertaining to national, international, and local quality and safety initiatives in the field of surgery.
PRESENT methods used to analyze data from ACS Quality Programs and demonstrate practical ways to use the data for quality improvement.
ASSIST hospitals and providers in managing, analyzing, and interpreting data by providing education on proven methods that will empower hospitals and centers to make a positive impact at their facilities.
ENHANCE the learning experience by offering breakout sessions that educate attendees on the topic areas of their choice and with consideration of their level of programmatic experience.
More events