STS 60th Annual Meeting
Exhibit
Symposia
Workshops
Organiser
Sponsor
The premier annual event in cardiothoracic surgery, unveiling never-before-seen science, techniques, and technology, and creating a forum to build lasting connections with colleagues.
Pre-Meeting Lung Transplant Symposium
The 2024 Lung Transplant Symposium: Surgical and Medical Insights for Transplant Assessment and Management, presented as a pre-conference activity on Friday, January 26, will provide insight to best-practice approaches for surgical and medical care of lung transplant patients, from assessment as candidates though post-surgical care as recipients.
Resident Showdown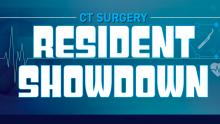 STS 2024 will be the site of the ultimate CT Surgery Resident Showdown, a game-show format competition between teams of CT surgery residents. Two-person teams will face off against one another in a test of knowledge in five categories: cardiac, congenital, thoracic, history of the specialty, and decision making. A North American champion will face off against the winning European team during the final showdown in San Antonio.
Team registration closed on June 30.
More events