ESC Congress 2022 Barcelona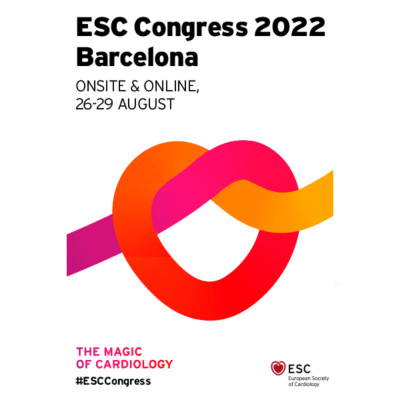 Symposia
Workshops
Organiser
Sponsor
ESC Congress 2022, Barcelona & Online
Friday, 26 August - Monday, 29 August 2022
Barcelona - Spain
For 70 years, ESC Congress has united the global cardiology community in an unparalleled gathering of great minds and ground-breaking science with essential clinical updates.
ESC Congress brings you relevant, up to date, scientific knowledge: inspiring, educating and celebrating those on the front line of cardiovascular medicine.

Now, after two years of being apart, get ready to join us as we begin a new era - ESC Congress 2022, live in Barcelona and online around the world.
The onsite event will provide an exciting return to networking, meeting face to face and enjoying the thrill of discovering, learning and sharing together in person, whilst respecting the highest sanitary measures for your comfort and safety.
To cater the needs of the entire ESC community, some sessions will be streamed live from Barcelona, for those unable to travel, with exclusive opportunity to interact with experts.
The magic begins soon – with you. Registration and abstract submission will open Mid-December.
In the meantime, save the dates in your calendar.

More events